Follow @AccuScore on Twitter
AFC East Predictions: 2018 NFL Previews
The New England Patriots have dominated this division for years. Nine wins in the AFC East tells its own story about the team that has been able to stay one of the perennial favorites to win the Super Bowl every season for 15 years. This season is no exception. Accuscore predicts the Patriots will win the division, and they are projected to finish with the best record in the league. Predicted number of wins is 11 and it would be a very big surprise if they don't reach the playoffs, as the probability for the postseason is over 90%.
AccuScore's Expert Picks: NFL Week 1 Picks
All of AccuScore's Spread and Totals NFL Picks - 2016 and 2017: +7,070 profit
One of the biggest surprises of the last season was the Buffalo Bills. They reached the playoffs with a rookie head coach and shaky QB play. A season later, making the playoffs would be an even greater surprise. Their win total is projected to drop from nine to five. Even though they drafted Josh Allen as their future franchise QB, it is unclear when he will be ready to compete at the NFL level. Of course, the win total could spike up if QB play shows improvement from a season ago.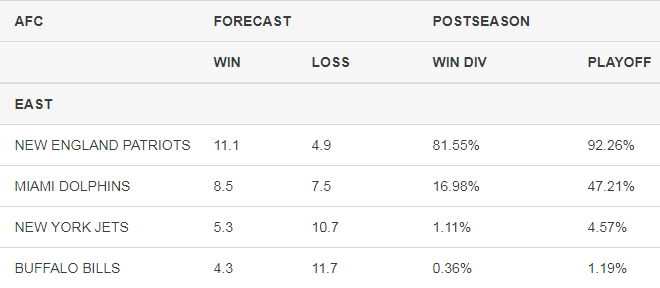 Not a member? Try AccuScore Free for 7 days:
First time members get a free 7-day trial of AccuScore's full site when you register for a monthly membership.
Join AccuScore Today!*
*use code NFLbegins for 15% off membership - Limited Time Special
Simulations predict the biggest improvement for the Miami Dolphins. Their starting QB Ryan Tannehill missed last season due to injury, and they recorded six wins with backups. Tannehill is starting his seventh season in the NFL and should be able to keep Miami in the playoff race as their probability to reach playoffs is 47%. Simulations show Miami as a 8-8 team, but without a healthy starting QB, this number could drop sharply.
The NY Jets are starting their season with a rookie QB. Sam Darnold out of USC was selected third overall and is the hopeful answer for the Jets' QB questions. 2018 should be a rebuilding year for the Jets, who are projected to win 5 games. Their chances of making the playoffs are predictably not great, with only a 5% chance make the playoffs. This could change after few years, if Darnold follows in the footsteps of recent first round QB picks like Carson Wentz and Jared Goff.
Other Previews:
AFC West Preview 2018
AFC North Preview 2018
AFC South Preview 2018
NFC West Preview 2018
NFC East Preview 2018
NFC North Preview 2018
NFC South Preview 2018